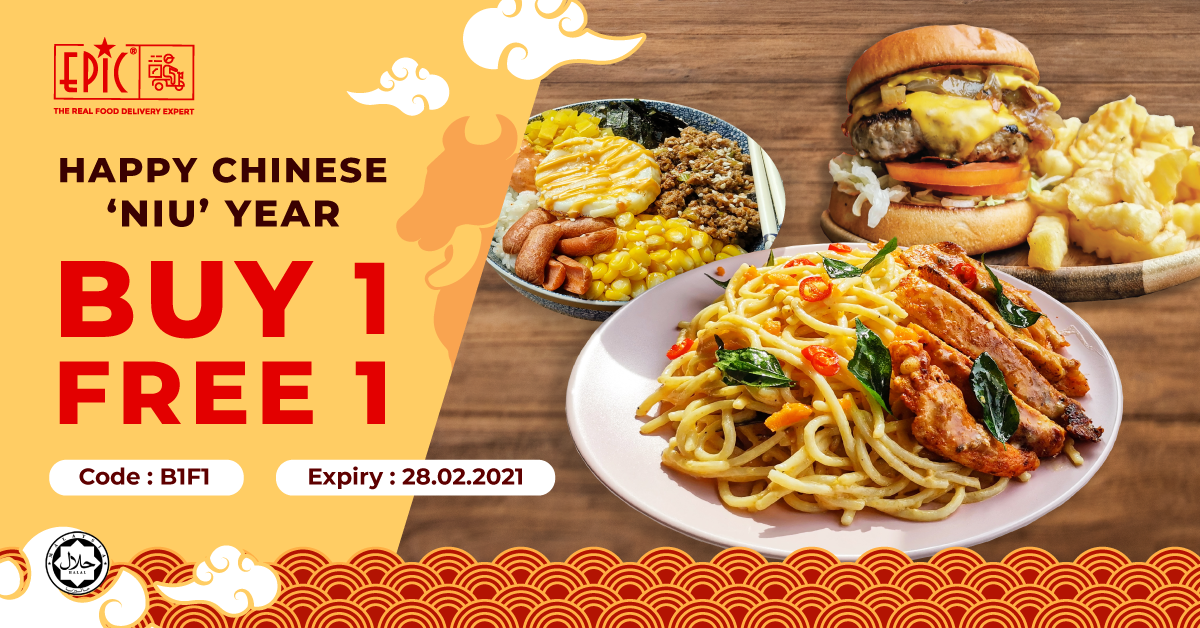 BUY 1 FREE 1 EVERYTHING
G'day peeps! Happy Chinese 'Niu' Year! We are sure most would have gotten more 'prosperous' indulging in sumptuous feasts. We figure so.

We are offering BUY 1 FREE 1 everything deal for you to get back to your routine. Enjoy delicious, wholesome meal and start hustling your way to success!

Hurry up and order away!!

TERMS & CONDITIONS:
- Voucher valid for EPiC online ordering platform: https://epics.com.my/
- Valid for online delivery order only
- Valid until 28/02/2021
- Delivery is free
- Minimum order for delivery is RM25 exclusive of SST and after promo code is applied in a single receipt
- Please input promo code when ordering online. No code no deal
- The voucher has no cash redemption value and cannot be exchanged for cash
- One (1) voucher per receipt only
- Not valid with other promotions
- Limited delivery coverage
- We reserve the right to change the offer without prior notice

Code: B1F1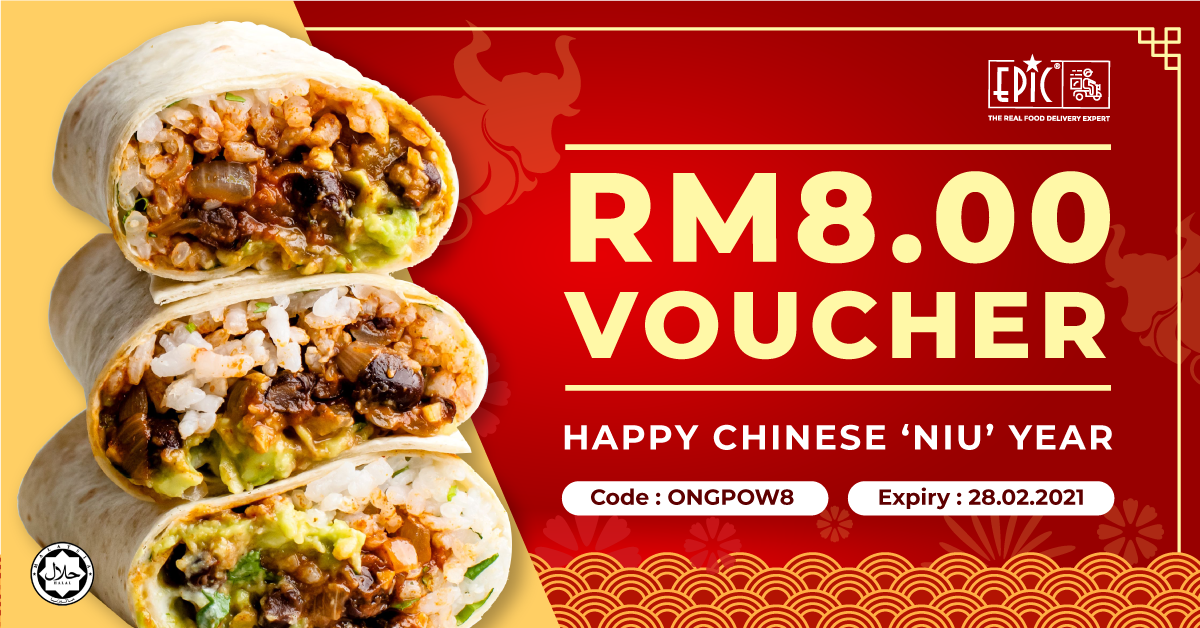 CLAIM YOUR RM8 ONGPOW!
Happy Chinese 'Niu" Year! Let us make this occasion more prosperous than ever with a RM8 Ong-Pow! Yup, you've heard it right.

Just use the promo code "ONGPOW8" to get RM8.00 OFF your delivery order! Limited to 80 claims a day only. Wait no more and Huat away today!

TERMS & CONDITIONS:
- Voucher valid for EPiC online ordering platform: https://epics.com.my/
- Valid for online delivery order only
- Valid until 28/02/2021
- Delivery is free
- Minimum order for delivery is RM25 exclusive of SST and after promo code is applied in a single receipt
- Please input promo code when ordering online. No code no deal
- The voucher has no cash redemption value and cannot be exchanged for cash
- One (1) voucher per receipt only
- Not valid with other promotions
- Limited delivery coverage
- We reserve the right to change the offer without prior notice

Code: ONGPOW8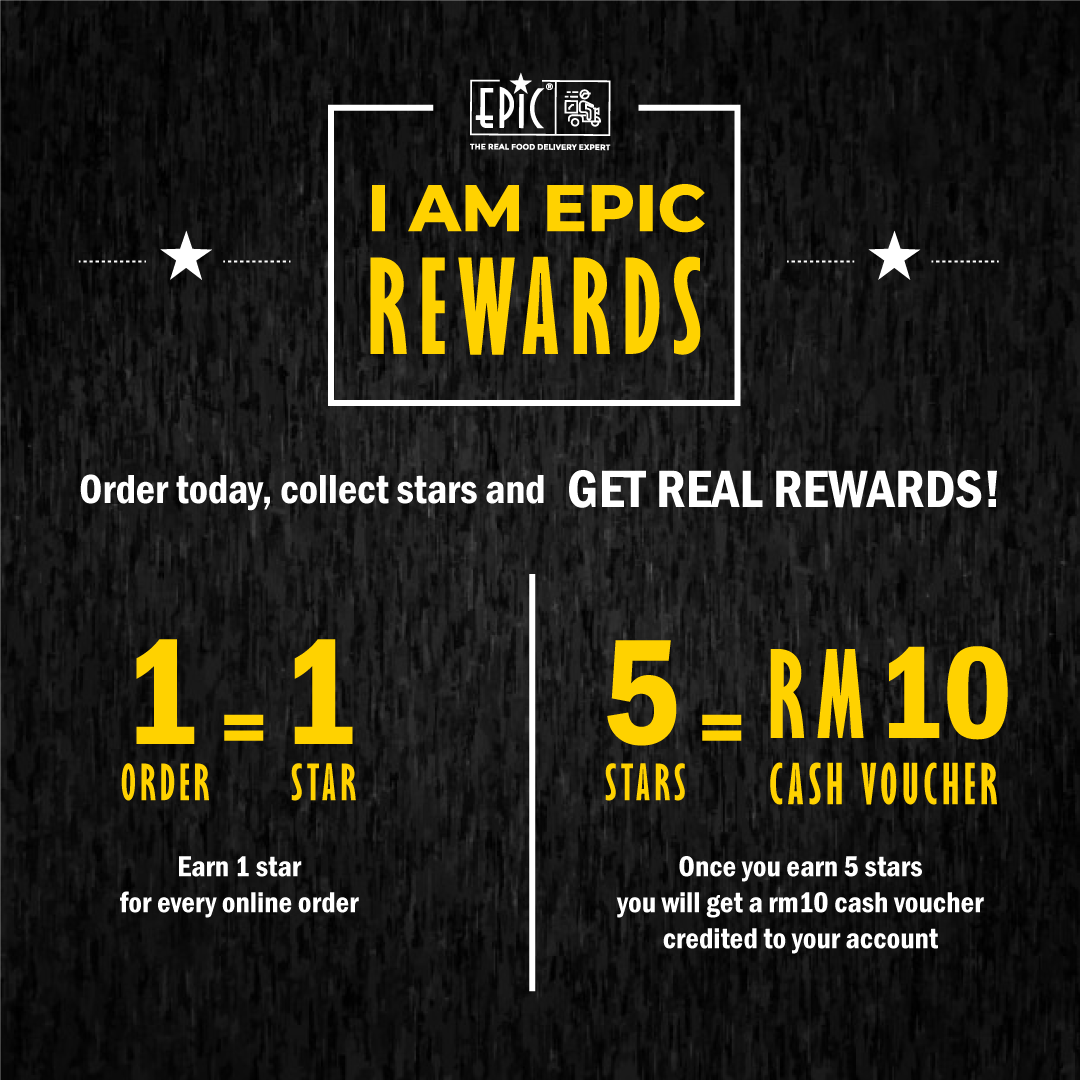 I AM EPIC REWARDS
At EPiC, we want you to enjoy fresh and tasty meals while you are hustling to achieve your life goals. And we are committed to help our regular patrons along this EPiC journey of life by offering great values.
The I AM EPiC Rewards is a loyalty program which guarantees rewards for our customers' continued patronage. Just order your meals as usual and collect Stars. You will get one Star with every order. And you will get a real reward when you collect five Stars. It cannot get simpler than this.
So register online and order your way to greater rewards now!